Media
Latest Media Releases:
(1) ABC News Online: A wonderful news article that includes a slideshow and commentary from program participants. This news piece celebrated the end of a six week Gold Coast City Council funded program for women from refugee backgrounds. They took part in the S'women Aussie Lifeguard for a Day Program, culminating at Main Beach in the ocean for the very first time.
http://www.abc.net.au/local/photos/2010/05/10/2895061.htm
(2) Gold Coast News: "Women Taste the Surf for the First Time". A video piece showcasing the talent of our participants at the beach. This was the final week in a six week program that gave participants the opportunity to put their skills to the test in the surf!
http://player.video.news.com.au/goldcoast/#AO5IhFw4EWrktd2qHK_KNje0_m_FeAcO
(3) The Courier Mail: http://www.couriermail.com.au/news/burqa-finds-its-day-in-the-sun-on-the-gold-coast/story-e6freon6-1225863815229
(4) The Gold Coast Bulletin: http://www.goldcoast.com.au/article/2010/05/08/215765_gold-coast-news.html
http://www.goldcoast.com.au/article/2009/09/30/142491_gold-coast-news.html
(5) Gold Coast Mail - Dierdre Smith
DUO HELP MUSLIMS TO ENJOY THE SURF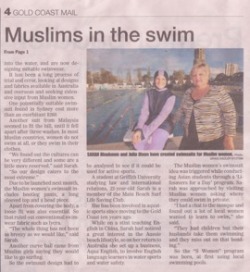 When they arrive at the Gold Coast's beautiful beaches, most tourists naturally want to take a dip.
But when you are a Muslim woman, from a culture that requires you cover up, it is a little more difficult.
That's where two local entrepreneurs Sarah Blaubaum and Julia Dixon come in. They have set up a program called "S'women" to encourage Muslim women into the water, and are now designing suitable swimwear.
It has been a long process of trial and error, looking at designs and fabrics available in Australia and overseas and seeking extensive input from Muslim women.
One potentially suitable swimsuit found in Sydney cost more than an exorbitant $260.
Another suit from Malaysia seemed to fit the bill, until it fell apart after three washes. In most muslim countries, women do not swim at all, or they swim in their clothes.
"We found out the cultures can be very different and some are a little more reserved," said Sarah.
"So our design caters to all levels of cultural sensitivity."
Due to be launched next month, the Muslim women's swimsuit includes bootleg pants, a long sleeved top and a head piece.
Apart from covering the body, a loose fit was also essential. So that ruled out conventional swimwear fabric such as lycra.
"The whole thing has not been as breezy as we would like," said Sarah.
Another curve ball came from Muslim girls saying they would like to go surfing.
So the swimsuit design had to be analysed to see if it could be used for active sports.
A student at Griffith University studying law and international relations, 22-year-old Sarah is a member of the Main Beach Surf Life Saving Club.
She has been involved in aquatic sports since moving to the Gold Coast ten years ago.
While on a stint teaching english in China, Sarah had noticed a great interest in the Aussie beach lifestyle, so on her return to Australia she set up a business, Aqua English, to involve English language learners in water sports and water safety.
The Muslim women's swimsuit idea was triggered while conducting Asian students through the Aussie 'Lifeguard for a Day' program. Sarah was approached by visiting Muslim women asking where thay could swim in private.
"I had a chat to the mosque and found out a lot of local women wanted to learn to swim," she said.
"They had children but their husbands take them swimming and they miss out on that bonding."
So the "S'women" program was born, at first using local swimming pools.